The most wonderful time of the year can be anything but for a lot of Canadians as they struggle to embrace the spirit of giving. It's not that the country is made up of scrooges who yell 'bah humbug!' at anyone who tries to make a little merry. Far from it! For the most part, the people that make up this nation are generous, kind-hearted people who look forward to a few days off work to celebrate with close friends and family. There's just one obstacle preventing so many of them from doing just that: money — or more precisely, a lack of it!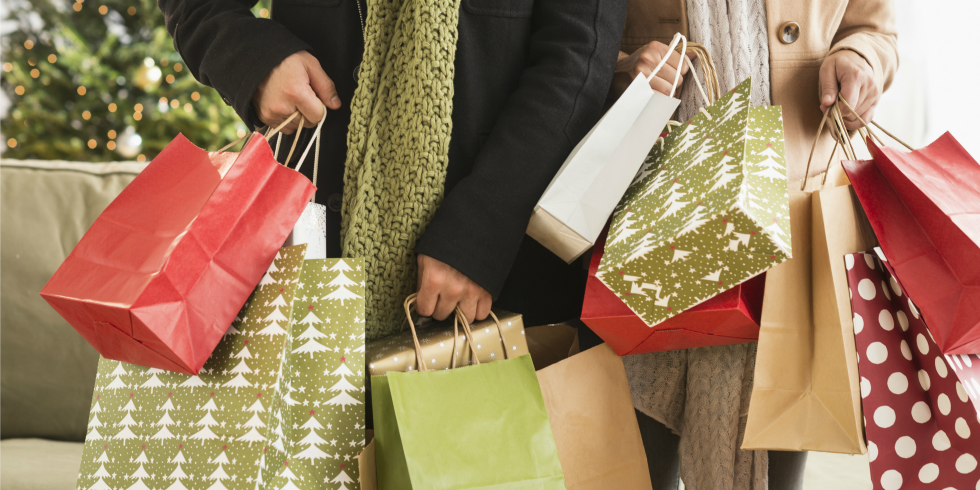 Approaching the holidays on a tight budget can squash any of the warm, fuzzy feelings you have for the season. Each year, this trepidation starts earlier and earlier. Everywhere you look, from Starbucks to the post office to the shopping centre down the street, you're overwhelmed with ads promoting the biggest sales of the year. Nowadays, you can't even escape it by retreating to your warm and cozy home. With online shopping only a swipe away, you can buy, buy, buy at any time of the day or night.
In 2015, the average Canadian spent $766 on gifts. More than half of them filled their digital shopping carts to avoid the busy shopping centres, and a growing number took advantage of the American Black Friday and Cyber Monday sales that pop up in late November. Don't forget about the cost of travel (notoriously pricey in this country at any time of year!) and entertaining. When you put it all together, your Christmas, Hanukkah, Kwanza, or Eid can leave your budget hurting.
Worse than a lump of coal in your stocking, your unchecked spending can result in a holiday hangover that last for weeks or even months after the family leaves and you put away the decorations. But it doesn't have to be that way. You can enjoy the best the season has to offer without dipping into the red.
Keep your finances on track by starting early.
If you accommodate the holidays into your budget as soon as the spring, you'll have months to set aside a bit of cash here and there. Over the course of the year you'll develop quite a bit of savings without putting much effort. Shopping well before the season arrives can help you snag deals that can keep your costs low. According to the American Research Group, early birds save as much as $250 more than those who shop last minute. Don't worry if that ship has sailed. It's something to remember for next year.
Use a budget, lists, and other organizational tools.
Before you spend your first loonie on the holidays, you need to know where you finances sit. The creation of your holiday budget should become a tradition alongside hanging stockings and decorating the tree. This plan makes it clear how much excess cash you have to spend on the festivities and how much savings you have to contribute. It will also highlight any bad spending habits that are money sucks. Once you tally your financial comings and goings, see if you can cut out any superfluous spending, like weekly take-out or that daily pumpkin spice latte and use it on the holidays instead.
Now that you know how much cash you have to work with, you can develop a shopping plan that comes in under your limit. Take a tip from Santa and use lists. Jot down any gift ideas onto a piece of paper or in a note on your phone. Do some research to find out where you can find each item for the lowest price. You can load up on shopping apps like these ones to help you narrow down the right store or load up on rebates that can help you save.
Keep calm and egg nog on.
Sometimes, despite your best efforts, you can't keep your spending under control. Even with a specialized budget for the holidays, the unexpected can throw a wrench into your plans. Let's say your cat swallows a piece of ribbon during one of your wrapping jags, and you need to take her to the vet for emergency surgery. With your extra cash tied up with the holidays, you may not have enough left over to cover this medical necessity.
You can't wait until you're back to work as usual when Fluffy's life is on the line. Luckily, you don't have to make that decision. When surprise, unavoidable expenses come your way, you can make up the difference in your budget with a cash advance. Also known as payday loans, they offer the ideal bridge between your paycheque and your vet bill. They're also incredibly convenient in emergencies. Direct lenders like GoDay simplify the borrowing experience by offering fast and convenient online services. In some cases, GoDay payday loans are issued the same day as you apply.
Having the cash you need when you need it comes as a huge relief at any time of the year. When it's something like the holidays, and you have enough warning, you can start planning early enough to squirrel away enough of your cash to tackle the season. But when it's something unexpected, your budget isn't always prepared. Thankfully, a cash advance can cover what you can't.
Unchecked holiday spending is the worst gift of them all.
Now that Thanksgiving has come and gone, the holidays are the next big date on Canadian calendars. As we prepare for another season of giving, we must be careful with the way we spend our money. It's tempting to spend without prejudice to ensure our kids are properly spoiled by Santa, but this behaviour can land us in hot water come New Year's. Unfortunately, finding a balance between overspending and being a scrooge this Christmas is hard for most of us.