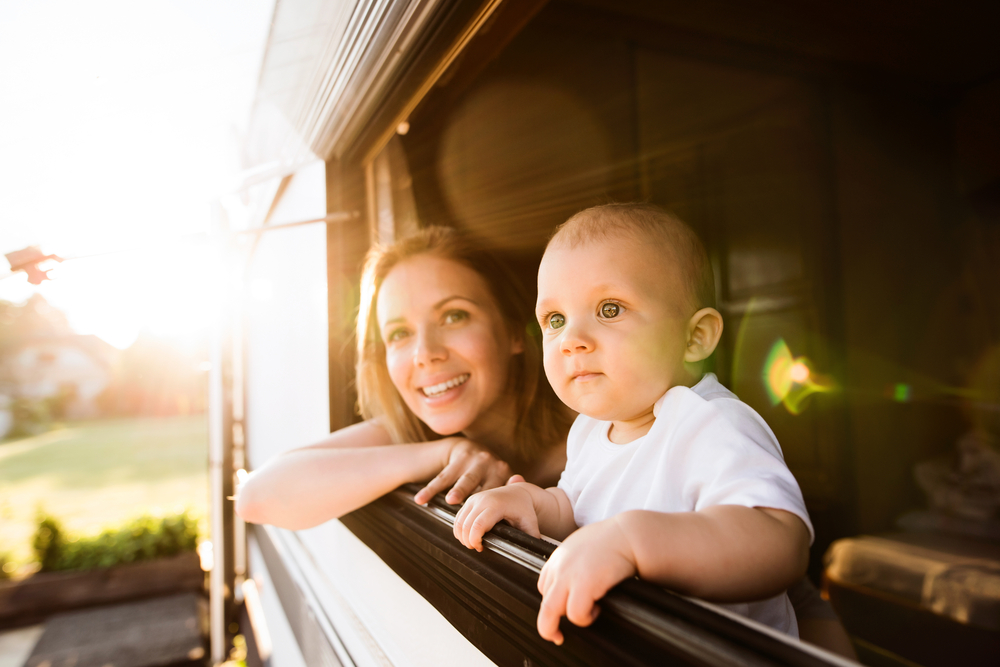 Having the freedom to go on holidays without having to worry about making any travel plans in advance is a great feeling. There's nothing better than hitting the road with your friends and family to explore just some of what Australia has to offer. With stunning stretches of coastline to explore, national parks to enjoy, bushlands to wander through and a range of other places to visit, there's no shortage of places to go. For anyone looking to immerses themselves in the natural beauty of Australia while having the flexibility to travel at their own pace, there is no better option than a caravan.
Caravanning gives you total control of the tone and tempo of your trip allowing you to explore places on your terms, without having to deal with hotels, public transport and tour groups.  While the initial investment in a caravan might be expensive, having a caravan for you and your family to holiday in together will allow you to create great memories together. Spending time together, having new experiences and going to new places, will far outweigh the expense of financing your caravan, as you share these priceless moments with your family.
Continue reading to learn how securing caravan finance or a caravan loan will give you and your family the opportunity to have amazing family holidays together for many years to come.
Caravan Loans
Caravans can be financed much in the same way other vehicles are financed. Unsecured loans provide buyers with more flexibility while secured ones reduce the interest rate of the loan. Through a Latitude caravan loan, for example, consumers can finance a caravan at a competitive rate through either a secured or unsecured loan. Take some time to weigh up your options and choose a financing option that works best for you. Conventional touring caravans are one of the most popular and numerous. This means they'll generally be cheaper than the other types. You can check out this site for some great touring caravans for sale.
Caravan Types
When choosing a caravan, buyers have a few styles from which to choose. Some of the caravan styles that are available include full caravans, which is, essentially, the classic caravan and is easy to use, especially if you are new to caravanning. There are also the pop top caravans, which take time to set up but are a whole lot roomier. Teardrop trailers are also great and are easy to hitch to a car. These are usually a more simple option but still, provide a sleeping area and cooking space.
The wind-up and out caravan provides a lot of space but is impractical to set up at rest stops. Instead, you might find it more feasible to set them up when you reach your destination. Of course, there is also the RV or motorhome option, which will give you all of your creature comforts and more space without any awkward setup. If you are looking for real luxury, you should consider fifth wheeler caravans that come with ample amounts of space to fit lazy boy seats, wide screen televisions, and a full kitchen.
Caravan Benefits
There are so many different benefits to financing a caravan and taking time out to spend with your family. In this day and age, where we are slaves to screens, a lot of these benefits are health related. A caravan holiday can help you to unplug from technology and reconnect with nature and each other. Whether you're setting the caravan up together when you arrive, heading out walking in the hills or hitting the beach, being out in the great outdoors encourages social interaction. Families with pets also no longer have to exclude their favourite family member from enjoying the holiday with them as they can come along in the caravan along with everyone else.
Questions To Ask
As with any major purchase, when you are shopping for a caravan, you need to be sure that you do your due diligence and ask plenty of questions before committing to buying. Understanding the different expenses that you might encounter throughout the year as a caravan owner will help you to figure out your monthly payments and the affordability of financing.
Be sure to thoroughly inspect the caravan, find out about as much as you can about the previous owner(s) and take the time to check all of the electrics to ensure they are working correctly. Take this opportunity to speak with the dealer and get an insight into the world of caravanning. With their experience, the will be able to guide you to making a good choice for you and your family's needs.
Investing In Your Future Family Holidays
If you want to take a road trip through the outback, enjoy some of the country's beautiful beaches or just take a trip out of town for a day or two, a caravan gives you the flexibility to pack up and go when you want without any forward planning. Stock up on food and drinks, pack a light bag to take with you and get ready to head off to pretty much anywhere you and your family want to go. With flexible financing available, the only thing standing between you and making family memories that will last you a lifetime is finding that perfect family caravan.