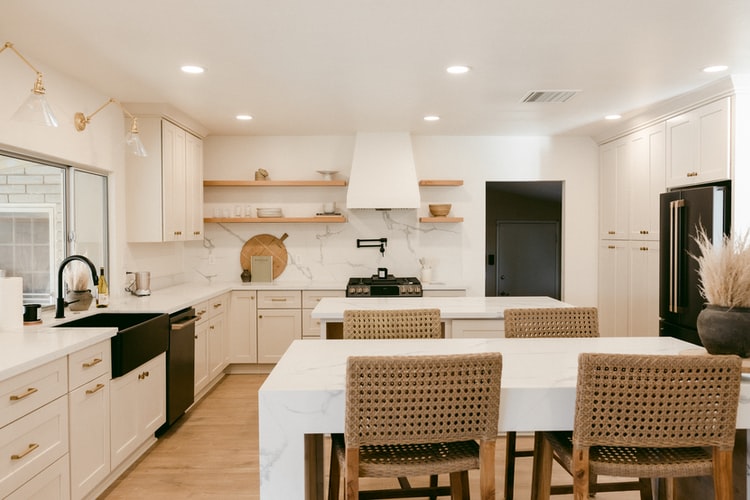 One of the biggest takeaways we have from the pandemic is that our lives aren't likely to be the same going forward. We've had to change many aspects of our lives and so it shouldn't be surprising that the way we design our homes reflects that change.
To get an idea of some of the ways home designs have been impacted by the coronavirus, Homelight surveyed top selling real estate agents what home features are popular in their market. THese are the top answers highlighted in their Q4 2020 survey.
1. Homeowners want stylish and functional offices
For many employees, remote work very well may become a permanent job requirement (or perk?) and so home offices are in great demand. This is especially the case for homeowners who have others living in the home who are also working from home, or even have children who are doing distance learning.
A dedicated home office is an alluring feature in the home because it allows you to shut the door, stay organized, and get your work done without worrying about being distracted. However, for those who live in a small home and don't have the space for a dedicated office, 14.5% of real estate agents say this is a factor when considering a house after relocating.
2. Family-friendly outdoor living spaces
Being in quarantine for a prolonged period of time, of course you're going to feel trapped and go a little stir crazy! Being stuck inside may not be too much of a problem for folks who have a yard but when the yard is just a glorified weedbed, eh… It doesn't seem like such a great place to spend some time.
The quarantine has made homeowners turn their attention to renovating their outdoor living spaces so that they are a nice environment to relax in. They're planting gardens, taking care of the lawn, and creating dining or play areas for family entertainment with durable composite decking. UrbanArch handles composite decking for every outdoor purpose imaginable.
3. In-ground swimming pools are in high demand
Some homeowners with some extra cash or equity are taking outdoor renovations to a whole new level by installing in-ground pools – especially in areas where the weather gets nice enough to enjoy them! Why, 65% of surveyed agents say in-ground pools are becoming a common feature in their particular market.
It's important to note that in-ground pools are expensive to install and only add add 7% to the value of your home, but you need to consider the long term costs related to energy consumption, maintenance and upkeep.
4. There's an increased desire for multipurpose rooms
One of the ways homeowners are making the most of a small space by looking for ways to create multipurpose rooms. Examples of this could mean utilizing a spare bedroom to serve as a makeshift office and a guest room. It could mean turning a corner in the living room to serve as a study space for the kids. It could even mean finishing the basement, garage or attic so it can serve many purposes like a home gym, entertainment space, extra storage and more.
5. Multigenerational living spaces are highly popular
One reason or another, families with several different generations are opting to live under the same roof. It's because of the need for additional space where these family members can have some privacy, folks are considering creating multigenerational living spaces. This means it can be as simple as building a bathroom onto an existing bedroom or going the extra mile and building a complete addition!
The pandemic has wrought an insurmountable amount of distress to our lives and we're still trying to navigate our way through these… unique challenges. Homeowners are trying to make the most out of the situation by doing home renovations (or shopping for a new house) so they have features that makes their lives a little easier, a little more enjoyable, and a little more functional. For now, that's the best we can do, don't you think?