Tech addicts form long queues whenever Apple releases another iPhone and they can't wait to get their hands on the latest Samsung smartphone models. However, these popular phones aren't the only quality mobile devices on the market. With high-tech hardware and innovative features, consider breaking away from the pack and choosing an LG V20 for your next smartphone.
Plenty of Power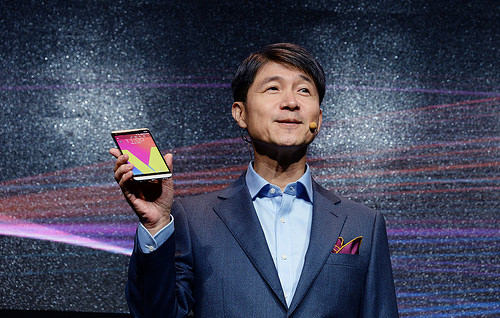 Image via Flickr by LGEPR
The LG V20 is powerful enough to operate your favorite games and switch seamlessly from app to app, thanks to its Qualcomm Snapdragon 820 processor and 4GB of RAM. That means the V20 is at least as fast as any contemporary Android phone, including the Google Pixel XL and Samsung Galaxy S7 Edge. Admittedly, modern Apple iPhones are speedier in diagnostic testing, but when you're using them for real-world applications you're unlikely to notice any discernable difference.
Take Photos to the Next Level With Wide-Angle Lenses
If you take your photography seriously, you'll appreciate the LG V20's wide-angle lenses. It's the first phone in the world with this feature and lets you get up to three times more in your shots than the average smartphone camera will.
The wide lens on the 8-megapixel rear camera has 135-degree capture, perfect for taking in stunning scenery or those large group photos. The 5-megapixel front camera isn't too far behind, with a 120-degree viewing angle for its wide-angle lens.
While professional photographers spend time fiddling with separate wide-angle lenses, you can easily switch between standard and wide-angle camera modes with just one touch.
Easy Selfies and Portraits With Auto Shot
The LG V20 also makes it simple to capture the perfect selfie or portrait every time with Auto Shot. This innovative feature snaps a photo whenever your camera sees someone smiling. Get the LG V20 from a reliable carrier like T-Mobile, with wide and consistent network coverage, and you can show off your perfect pictures on social media no matter where you are. Those selfies will look fantastic too, thanks to the LG V20's 5-megapixel front-facing camera.
Leading Audio Recording and Playback
Sound quality usually suffers on smartphones. Their small components just can't hope to capture or play audio the way larger dedicated audio gear can. But LG raises the bar with its V20, offering superior audio capture and playback functionality.
Take your videos to the next level with top audio recording functions. The V20 captures sound with 24-bit/48 kHz Linear Pulse Code Modulation, the same format seen in professional video gear. The Low Cut Filter feature reduces background noise such as wind and chatter. The Limiter hones in on the voices you're recording to make conversations easier to understand. These features work hand-in-hand with the LG V20's 4K video capture functionality.
Playing back your videos, YouTube clips, and your favorite tunes is just as sweet. The V20 is the only smartphone featuring the 32-bit Hi-Fi Quad digital-to-analog converter seen in high-end sound equipment.
The handset works with any pair of headphones, but LG bundles it with superior Beoplay H3 earphones. The speakers are also fantastic, with loud volumes never compromising clarity or quality.
Swap the Battery and Increase Storage Space
The ability to swap out a battery and increase a phone's storage is nothing new. However, marquee smartphones with both features are increasingly rare. If you want to take control of your smartphone rather than letting your smartphone control you, you'll appreciate the flexibility.
A removable battery is very handy on long commutes and busy days. Simply keep a spare in your bag and you need never worry about running out of juice. You'll also find it easier to sell your phone if you can promise a brand-new battery.
The LG V20 comes with either 32GB or 64GB of storage on board, but you can easily expand it with SD cards. This is a real plus for a phone which encourages people to take a lot of high-definition photos and videos.
So many consumers choose iPhones, Samsungs, and other popular smartphones without ever researching their options. But look at it closely and you'll see that the LG V20 is a worthy competitor to the more well-known devices.