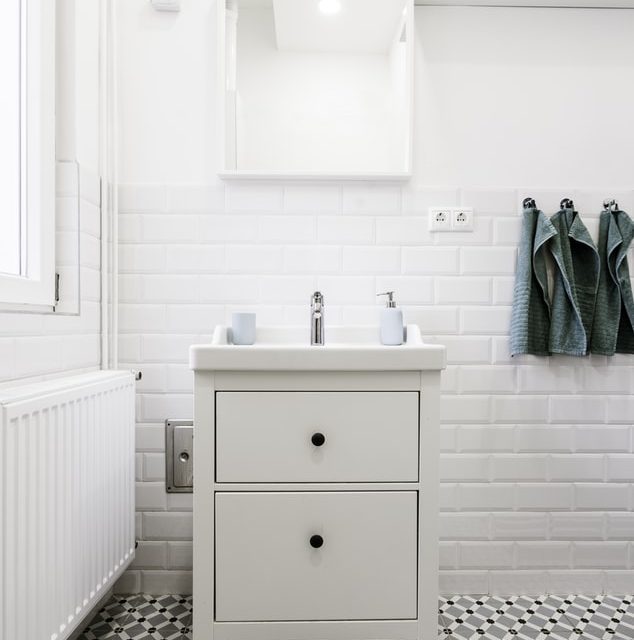 Although the bathroom doesn't tend to be the highest foot traffic area in the home, it does come with its own set of dangers that can cause damage. With the bathroom, practicality tends to come first but there's no reason you have to sacrifice beautiful looks for the sake of something care-free and easily manageable. Let's have a look at some of the best options….
The first thing to do when deciding on flooring for any room is to rule out options, then it makes things a bit easier. First thing's first… stay away from carpet! A lot of old-fashioned bathrooms have those grimy, discoloured carpets and it's no surprise that most of us decide to rip them out in favour of something more hygienic, practical and better looking! Carpets are no good when it comes into contact with high amounts of water and will also stain easily – basically just don't put carpet in your bathroom!
The second flooring type we wouldn't recommend is wood. Wood flooring has grown in popularity in the last ten years and it's easy to see why. It's timeless, beautiful and durable, ideal for the hallway and living room, but not the bathroom. The reason is that it's no good if it comes into contact with too much water, as it causes to warp and shrink. The other factor to consider is that it is not stain and scratch proof either and since your bathroom is likely to have bleach and other chemicals, this is a big no!
Now we've ruled out two options, that leaves us with more sensible choices: laminate, Luxury Vinyl Tiles and tiles. Although tile is very hard wearing and not likely to stain, it is very slippery when wet and can be dangerous – not ideal if you have little kids running around just as they get out of the bath!
Laminate is a worthy option – extremely durable and relatively cheap as well as being resistant to scratches, stains and water. If you've fallen for the authentic look of natural products such as wood or stone, then don't worry – laminate comes in very realistic impressions of these natural materials that often it's very hard to tell them apart! We'd have no concerns recommending laminate in the bathroom.
Lastly, the best option by far is LVT. It is completely water, stain and scratch proof – obviously perfect for the bathroom! Again, like laminate it is relatively inexpensive and looks almost identical to natural products. Forget everything you know about vinyl sheets being outdated, ugly and cheap, it has been revolutionised to create the stunning LVT which offers real luxury to your home. It is also cushioned and soft underfoot as well as being slip proof and highly durable. There really isn't anything to say against it!
With there being so many options to choose from in the flooring world, sometimes we just need someone to tell us which one to focus on! Overall, LVT is by far the best choice for the bathroom for the reasons discussed, but if you're looking for a cheaper fix then laminate will do the job well too.