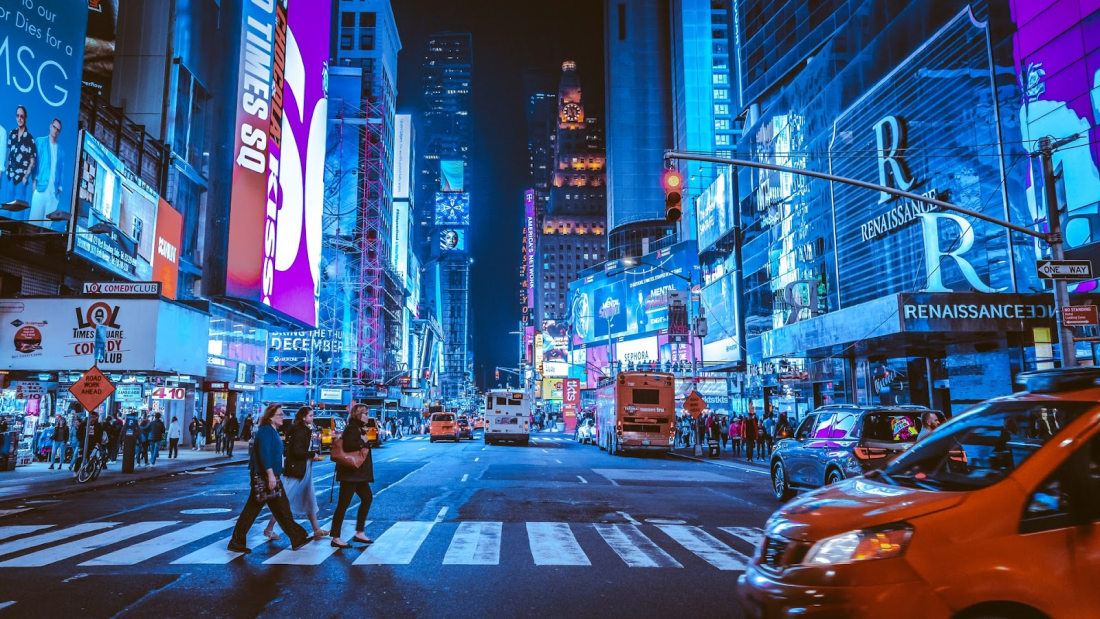 Times Square, New York; Image by Andreas Kruck, Unsplash
America's most picturesque towns and cities stand as a testament to the country's moniker, America the Beautiful. Chinese citizens traveling to the USA will be amazed by the bustling cities, beautiful national parks, lively beaches, and awe-inspiring islands.
Even if it's difficult to narrow down the best cities for you, one thing is for sure: there are a lot of exciting, diverse cities to discover.
Here are a few of the most fun US cities to visit.
San Francisco
San Francisco is one of the most fun cities in the United States to explore, thanks to the Golden Gate Bridge, Fisherman's Wharf (with its stinky but funny seals), and the hippie district around Haight Street. Once you arrive in San Francisco, take a ride and pedal down to Sausalito for brunch or a Takeout picnic from Tartine Bakery in Mission Park. Also, don't forget to stop by Alcatraz to learn more about the city's prison history.
From Fisherman's Wharf, you can see the prison island. You have to buy tickets to visit the prison island. Booking in advance is highly recommended, as these tours tend to sell out quickly.
Don't forget to check out the "Painted Ladies," the Golden Gate Bridge from Battery Spencer, and the twisting Lombard Street. One of the city's best brunch spots, Sweet Maple on Sutter Street, is a must-visit. The Millionaire's Bacon is a must-have, too.
Orlando
Because of its many attractions, Orlando is a popular tourist destination worldwide. More than a dozen theme parks are located in the greater Orlando area, including Disney World, SeaWorld, Madame Tussauds, Universal Orlando, Fun Spot America, and more.
Over a hundred lakes dot the area, and many of them offer boat and other recreational vehicle rentals. To top it off, Orlando has a wealth of family-friendly restaurants, golf courses, and outlet malls that make it a must-visit destination in the United States.
Orlando is a popular destination for actors and musicians because of its abundance of theme parks. As a result, the area has a thriving live music and theater scene. Furthermore, the nightlife is geared toward visitors.
New York
New York City is the easy entrance in our list of must-see American cities. The "Big Apple," New York City is famous as the city that never sleeps.
Parks abound in New York. A few of the most well-known include New York City's Central Park, the Brooklyn Botanic Garden, and Prospect Park in Brooklyn. Get the best views by booking a spot on one of the numerous island-circling cruises.
In the Big Apple, each neighborhood has its own distinct character and vibe. The best trips to New York are those that include a wide variety of experiences and activities. Wander around the city and see what it's like.
New York, not surprisingly, is home to some of the world's best restaurants. Lombardi's in Little Italy has the best pizza you'll ever eat. You can't go wrong with this pizzeria, which is one of America's oldest and best.
Miami
Turquoise waters, eclectic architecture, and a party atmosphere make Miami a great destination and one of America's most popular vacation destinations. There is nothing more beautiful than Miami's golden-sand beaches. However, for the modest, Miami is a dangerous place to visit because the more skin you show, the better!
The metropolis of South Florida is passionate about art. The world's most prestigious exhibitions and festivals are held in Miami, including the Biennale. The Bass and The Pérez Art Museum Miami are two notable museums in the area. Plus, The Philip at Patricia Frost Museum of Science is a must-see for science nerds.
You should also bring comfortable dancing shoes because Miami's nightlife is legendary. Before you step out for the night, stop by one of the many fantastic restaurants in Little Havana to refuel.
Los Angeles
The city of Los Angeles is always associated with the glamor and glitz of the American film industry. But there is so much more to see and do in the city. A tour to one of the city's many beaches is highly recommended for anyone hoping to get a tan. People-watching is best in Santa Monica, Malibu, Venice, Manhattan, and Hermosa.
Disneyland and Universal Studios Hollywood are two must-see attractions for families traveling with young children. Take a stroll down Rodeo Drive in Beverly Hills to see how the other half of the population lives.
And, don't forget to look out for celebrities!