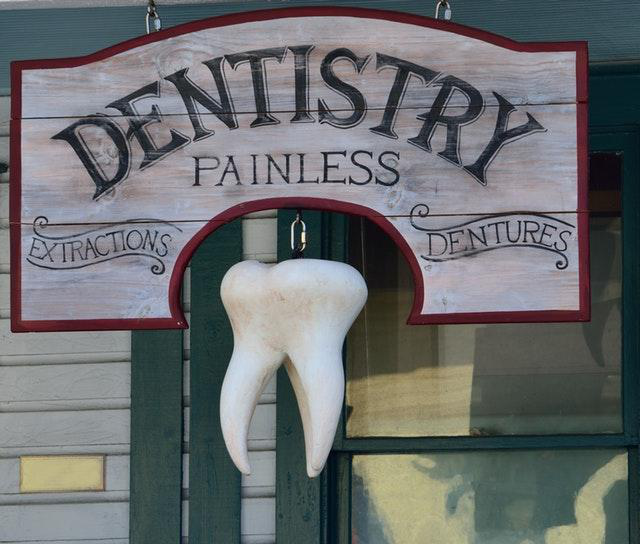 There are many things in life that inevitable. There is a saying that is common in America, "the only things that are certain in life is death and taxes". While this is true to some degree, there are also quite a few other aspects of life that end up being inevitable. One of these things is that everyone gets sick at least a few times in their life. Generally, this is just the common cold or the flu, sometimes it is something more serious. Because of this, many people make it a habit to regularly visit their primary care physician. This helps to prevent many illnesses and aids in maintaining overall health. While this is an excellent idea and an important part of staying healthy, it is not the only part of maintaining health. It is vital to maintaining the health of the entire body, and a primary care physician does not cover every area. Specifically, they are not able to take care of your teeth. For this, you will need to visit a dentist. A dentist can help you keep your teeth and mouth healthy as well as treat any issues that you are already dealing with. Many people have a bad habit of avoiding the dentist at all costs. There are many reasons for this including a deep-seated fear, a lack of time, a lack of funds to cover the expense of the visit, and a multitude of other reasons. If you are one of those people, it can help to take the time to learn about an average day in a dental office, depending on the exact cause of course. Here, you will find exactly that, a look at what goes on in a dental office on an average day.
One of the first things to consider is how a person goes about finding a new dental office. Generally speaking, there will be a search for listings, and then there will be questions and requirements. Most dental offices receive calls and emails on a daily basis inquiring as to whether or not they accept a certain type of insurance, is the dentist good with children, and where is the office located, just to name a few. This is a large part of the receptionist or secretary's job, answering questions from patients and potential patients. Also, many people call and email during the hours when the office is closed. Therefore, one of the first priorities of the day is to respond to as many of the inquiries as possible. If you are one of the many people currently looking for a new dentist, it could not be easier to find one. As previously stated, the search generally must start with a few keywords typed into your search engine of preference. These keywords must contain location descriptors and a general description of what you are looking for. For example, you might type in "Lake Oswego dentist". This will get you well on your way.
Consider the beginning of the day for a dental office. Employees will need to arrive early to ensure that everything is ready for the day. This includes organizing the day's appointments, sorting through patient files that need to be updated, getting new files ready for new patients, making necessary calls, and making notes about supplies that need to be ordered. This is all generally done by a secretary, but then other employees will need to arrive to prepare for the day. This includes assistants, dental hygienists, and the dentists themselves. At this point, the office will open for appointments and everyone will begin the process of caring for all the patients that are scheduled to come in that day.
As people begin to arrive for appointments, each employee will have their own tasks to attend to. When someone first arrives, they will need to talk to the secretary. During this process, the patient will be issued several papers to fill out and sign. New patients will have more paperwork than returning patients. Also, anyone there for a regular checkup will have less paperwork than those that are having some type of procedure done. Once the paperwork is complete, the receptionist will file it away accordingly and make the necessary notes in the patient's file and on their chart. From there, each patient will have a period of waiting to see the dentist. When it is their turn, the dental hygienist will call the person back into the office and the appointment will officially begin. What happens next will be determined by what each individual person is having done.
During the working day, there are many tasks that must be completed. There will be x rays that need to be taken and then read, teeth cleanings, fillings, caps, examinations, root canals, and much more. There will also be an exorbitant amount of scheduling follow up appointments and procedure appointments. If a patient needs certain types of procedures, the dentist will refer them to an orthodontist if they are not one (dentist and orthodontist are not synonymous). This often requires the secretary or receptionist to make a few calls and set up an appointment with the orthodontist for the patient.
At the end of the day, files will need to be put away, reminder calls must be made, and the office must be cleaned and organized. There are different employees to handle various tasks. Secretaries and receptionists handle the filing of patient charts and files as well as make the necessary reminder calls. A janitor will take care of cleaning up the waiting room, the reception area, and all of the examination rooms. Also, it is important to keep track of any supplies that need to be updated or replaced.
Every day varies just a bit, some more than others. Occasionally, there will be an emergency or something equally significant that affects the general flow of the day. Otherwise, most days are incredibly similar in the average dental office. Of course, dental offices that accept pediatric patients will be busier and more high speed than other offices geared to adults.