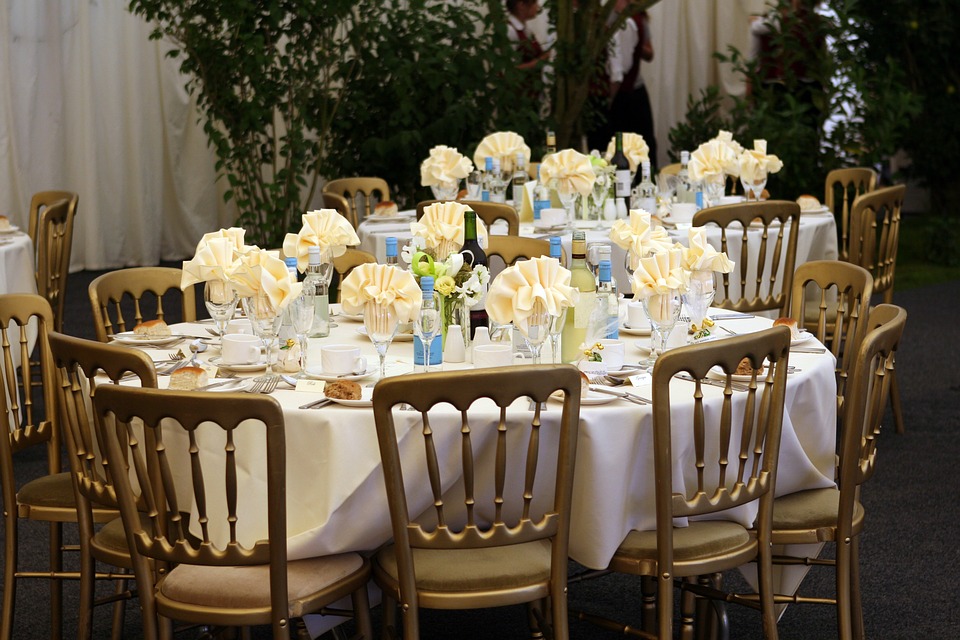 With your big day fast approaching, there are careful considerations to make regarding food. The sooner you decide what you will serve, the better. You can then make arrangements to contact the caterer of your choice and send out menu selections to guests so they can RSVP with their preferences.
The food that you serve is indicative of your personality. It may also tie into your wedding theme. Serving food that is nutritious and delicious is ideal because your guests are going to be spending a good amount of the day with you and will be hungry by the time you hold your reception.
Here are seven special food trends you should have for your big day:
Finger Foods. Skip the fancy cutlery and go straight for foods that can be held and eaten sans silverware. Finger foods are a huge hit because they're easy to eat and portable. As guests meet and mingle, they don't need to let their food get cold because they're busy being sociable. They can carry it with them and munch in between introductions. No one will think they're being rude, either, because they'll be noshing on the finger foods, too.
Custom Bars. From loaded baked potatoes to piled high tacos, a bar with a variety of toppings tantalizes guests. It gives them the opportunity to create a meal that they love on their terms using the ingredients they enjoy most. No one will go home hungry because they'll be able to create the meal of their dreams using the wide range of ingredients you've made available for them to choose from.
Vegetarian and Vegan Options. Gone are the days where herbivores at a wedding were a rarity. Today's population of adults include people who eat plant-based diets for health and ethical reasons. You'll find that meatless options are being offered more at receptions as a way of making everyone invited feel included in the celebration. With more people adopting a plant-based diet, it only makes sense to include more fresh fruits and vegetables on the menu on your wedding day.
Ethnic Cuisine. People love eating something they wouldn't necessarily get a chance to try any other day. Hiring a caterer who prepares authentic ethnic food allows you to introduce your guests to other cultures and flavors. It's a trend that you can get on board with because it's so delicious! Introducing your guests to new ideas and recipes is a great way to spend your special day.
Farm-to-Table Meals. Locally-sourced ingredients from farms in the area grace the tables at your reception. Guests get to feast on the freshest foods available. They get to witness the transformation of common fruits and vegetables into world-class cuisine. They'll be amazed that things such as eggs, tomatoes, and garlic could taste so good.
Gluten-Free Goods. Instead of noodles, there's zoodles (zucchini noodles) and other grain-free options. This allows people with serious food allergies to enjoy the occasion, too. They can dine with greater ease because they know that the food that is being served was specially made for them. Guests who require gluten-free menu items won't feel left out because they can't eat the cake, either. You'll have something special for them to enjoy that tastes just as delicious.
Dessert Tables. Wedding cake remains a mainstay. Dessert tables, however, mesmerize. Guests are given a wide range of options to choose from. They can satisfy their sweet tooth by being indulgent on your big day.
As you can see, today's food trends are delicious in nature. By incorporating one or more into your wedding plans, you're able to create an experience for your guests that they'll never forget. They'll remember the great lengths you went to in order to accommodate their needs and give them something wonderful to eat.
Take into consideration the many different food trends that exist for weddings of all sizes. With HoneyWed Wedding Catering Byron Bay, you have options that meet your needs and allotted food budget. Serving your wedding guests delicious cuisine is easy because you planned ahead and paid close attention to the trendiest foods available at the moment.